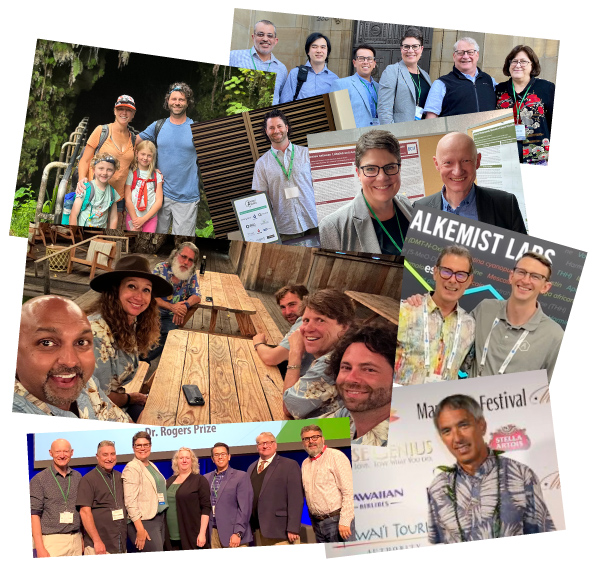 We have been traveling a lot lately! Alkemites participated in three significant industry events in June: the UNPA Member Retreat, the new Mushroom Summit, and the Canadian Natural Health Products Research Society (NHPRS). All three were valuable and in some cases, enlightening. Elan, Nick ,and Petra share their thoughts.
UNPA Member Retreat
Elan Sudberg, CEO
UNPA's Member Retreat in Kona, Hawaii was extraordinary and will go down in the books as best family vacation that was also a business conference.  To say it was a special event is an understatement; not because I brought my wife and two kids, and we arrived a few days early and stayed 5 days longer and explored Kona and swam with sea turtles and rented a house with its very own lava tube and we walked across places where the floor was actually lava… for me it was special because of the keynote speaker, a man named Nainoa, who is a classically trained Polynesian voyager.  
Nainoa spoke to us about the old and simple ways of the islands and how his people slowly gave away and lost their freedoms and liberties.  Their languages, culture, and ways of living were forcefully replaced with contemporary Western civilization.  Their land was taken over by Goliath agricultural companies to experiment with new pesticides and poison everything from the mountains to the reef.  
He reminded us of how important it is to not lose your North Star and become lost. Nainoa's counsel resonated with me more than any other experience on the island. It's a message I wish the entire industry had heard.
Canadian Natural Health Products Research Society (NHPRS) Conference 
Petra Erlandson, Director of Sales & Marketing
What a pleasure to be back with our colleagues to the north to celebrate NHPRS 20th anniversary in Montreal, Canada.  As some of our newsletter readers may not know, the term Natural Health Products is the Canadian regulatory category for what we know as Dietary Supplements.  NHPRS is a dedicated group working to promote research and education. I really enjoyed the three days of presentations highlighting research on herbal medicines and cancer research, metabolic disease, and healthy aging. My favorite presentation was the panel titled "Consistent Lab Results: Why is it so difficult?" which led to a passionate discussion about one of our favorite topics, lab transparency!
Having last attended the conference in 2017, this year's edition served as an important reminder of the regulatory differences between our two markets.  The labeling differences alone are amazing.  Bryan Fine, Sales Director, and I went on a field trip one evening to a local supermarket to see for ourselves how supplement products appeared in the store and look at retail packaging.  Even though I was well versed ahead of time, it was such a shock to see health claims clearly stated for consumers to see!  We saw bottles clearly listing "gout pain relief", "cholesterol control", and "helps ease sinusitis" among others.  Although the American approach certainly has its own strengths, my visit left me wondering if Canadian consumers are perhaps better served when privy to such specific guidance as research supports.
Lessons Learned from Mushroom Summit and Psychedelic Science 2023 
Nick Crowning, Business Development Manager
I recently had the opportunity to represent Alkemist Labs at The Mushroom Summit and Psychedelic Sciences 2023 in Denver, Colorado.  These two back-to-back events really showcased the rapid growth and development of the functional mushroom and psychedelic industries.  I was impressed by the collective commitment to quality, transparency, and consistency in practices.  While there's so much to share, a few key items really stuck out to me:
We need economic standards for Lion' Mane compounds Hericenones and Erinacines! These two groups of compounds were a hot topic of discussion throughout both shows.
Now more than ever, it is critical to test your raw materials and audit your labs! I had the opportunity to hear from other testing laboratories about the categorical fraud that's out there.  Demand is high, and so is the motivation for economical adulteration.
Mushrooms and other psychedelics have caught the attention of numerous prominent figures from diverse backgrounds. Among the 12,000 attendees were several high-profile speakers including Aaron Rogers, Paul Stamets, Andrew Huberman, Jeff Chilton, Holly Johnson, and our own Sid Sudberg. 
Keep an eye out for the legal status of psychedelics. There's a major push to update the legal workings around psychedelics like Psylocybe mushrooms and MDMA, but the battle is just beginning.  With states like CO and OR already developing their legal framework, we have a preview of what the future of psychedelic treatments can be.  We also have the hemp/cannabis industry history to learn from.  However, the push needs to continue!  Connect and work with your state and local legislatures.  Nothing will happen without our collective efforts for change.
I will be keeping up with the progress of these two up and coming industries.  Are you thinking about working in these industries, but have questions?  Give me a call or send me an email, I'm happy to provide more insight.