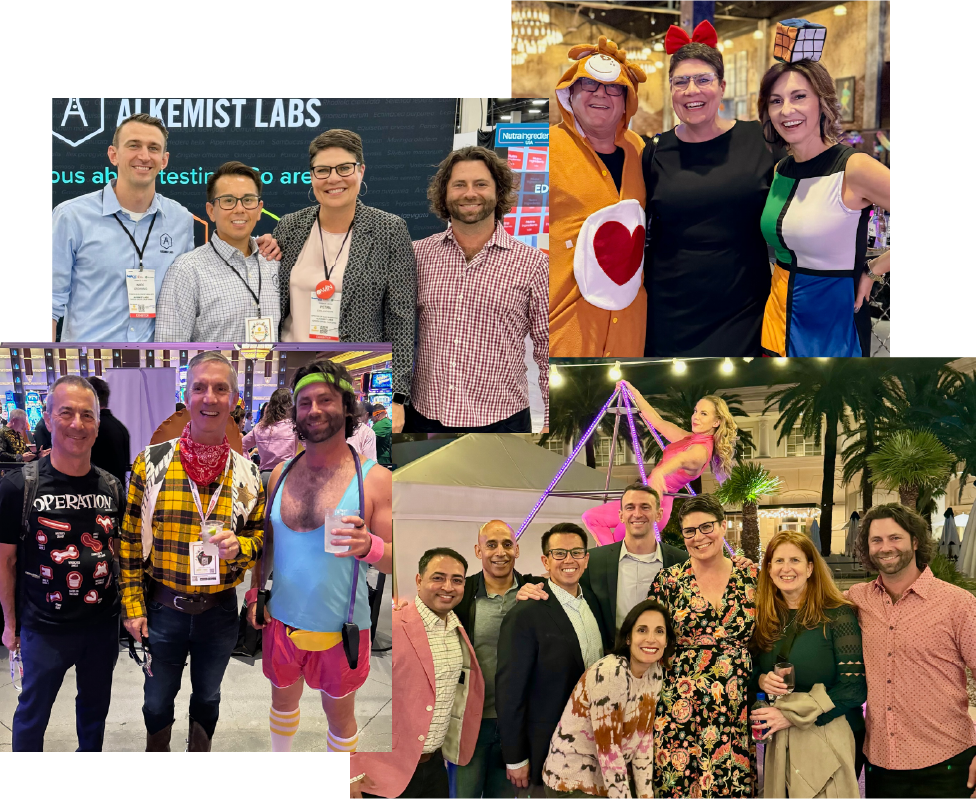 Elan's SSW Reflections
SSW23 was the best SSW ever. I think I have said that every year, as the show keeps getting better as does our traction in the industry. Aside from the joy of being with all my industry friends and clients, and unofficially crushing the men's costume contest at the What's Up With Supps party, there are two amazing shares. Shares about validation. No, not that nerdy validation with concern for specificity, linearity, range accuracy, precision, limit of quantification, ruggedness, and robustness. Validation of what some might have said are crazy ideas and non-conforming stances.
Validation #1 
Alkemist AssuredTM was EVERYWHERE!!! Well, not really everywhere, but we had a healthy handful of clients proudly sharing the Alkemist Assured logo at their booths differentiating themselves from other brands. There is a lot of better sameness out there but the Alkemist Assured logo on ingredients, manufacturing facility, and finished products makes a statement of the highest quality and transparency. I've always said that if you do the testing (which you should because it's the law) why not share it? It was validating to see an idea I had nearly a decade ago for which I planted many seeds begin to produce fruit. I am beyond confident that we will begin to see more and more brands from throughout the industry proudly differentiating themselves with Alkemist Assured.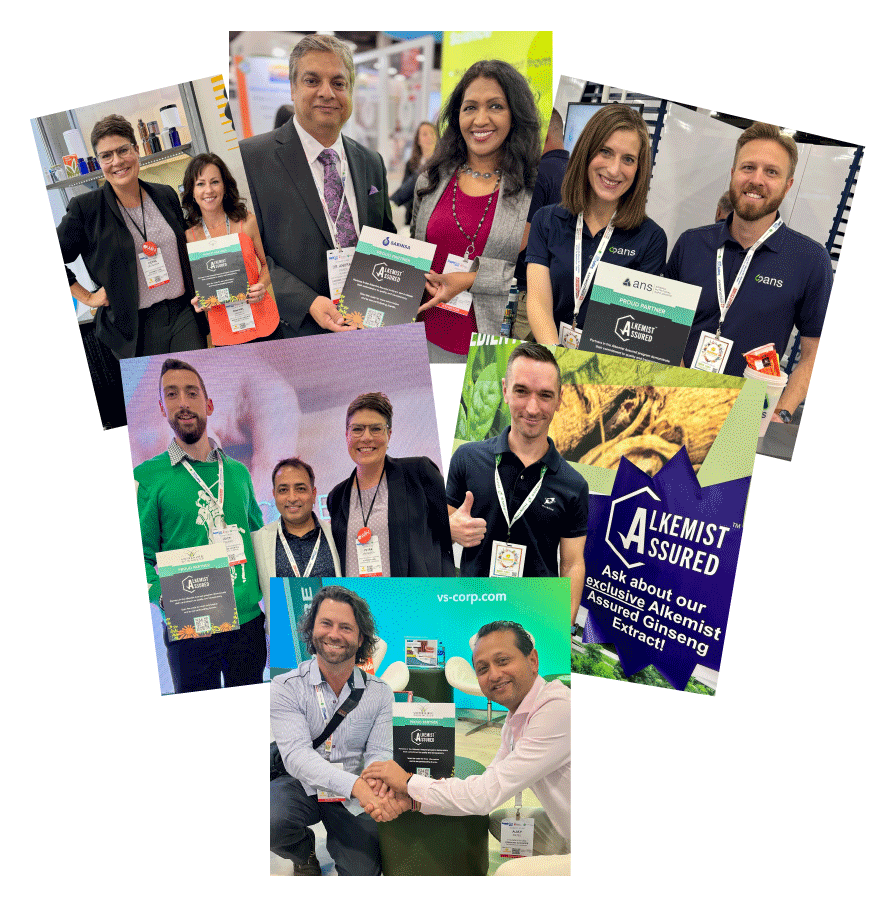 Validation #2
The last ~3 years have been tough. Especially for those pesky non-conforming activist types like me. I have had a pretty loud oppositional voice during the pandemic mainly focusing on Health Freedom and have stood mostly alone on my soap box. Turns out that most of the conjecture I was called a 'conspiracy theorist' or even 'grandma killer' for saying have come true. Still, I have felt sadly alone and even crazy at times. Validation #2 comes from the nearly 30 ~strangers to whom I am connected on LinkedIn who sought me out and approached me during the show to thank me for my voice, for my stance, and for my bravery in speaking out against contemporary scientific consensus on matters dealing with the pandemic. It was overwhelming, to say the least, and brought tears to my eyes several times after long grateful hugs from strangers validating my voice.
Alkemist Labs exists to improve global access to safe and effective natural medicine through accurate and timely lab testing. While we don't make products, we test them as if they are our own and I will die on the hill protecting access to them.

SSW Reflections from Petra
What a whirlwind!  SupplySide West is always our busiest show of the year and 2023 certainly continued that trend, and then some.   Elan, Bryan, Nick, and I were double or triple booked for meetings nearly every hour of the intense 2-day expo.  Floor traffic was way up, confirmed by Informa's announcement of 14% growth in attendance.  Huge thanks to so many of our clients and partners for making time to meet with us.  
It was so gratifying to see the momentum that our Alkemist Assured program is gaining at both the supply chain and finished product level.  I had the pleasure of visiting all of our Alkemist Assured partner's booths to deliver a custom sign announcing their participation in the program.  What started as a quick delivery run became one of my favorite things that week, allowing me to meet new contacts with each of our partners. I got to hear how Alkemist Assured is helping to growth their businesses and support conversations their around quality and transparency.  So many companies approached us at the show to learn more about the program and how they can start!
Another highlight of the week for me was connecting with new friends and colleagues I have made through Women in Nutraceuticals (WIN).  This year, I joined the WIN Science Committee, volunteering as the marketing subcommittee chair.  WIN has become an important vehicle for me to connect and work with a diverse group of other women in our industry, not to mention some very impactful men who support WIN's mission and values.  The WIN reception on Tuesday evening had huge attendance and it was wonderful to meet, in person, so many people that I have gotten to know in Zoom meetings.  At the UNPA member meeting on Wednesday morning, it was such a pleasure to see WIN President Heather Granato honored the newly-created UNPA Ignition…Liftoff Award for inspiring and igniting people, careers, and causes for over three decades, and be joined by WIN colleagues in that celebration.  I am so thankful for Elan's support for my involvement and the fact that Alkemist is a founding WIN sponsor!