Congratulations to the amazing team at Informa Markets and New Hope! Natural Products Expo West was a hit, and I didn't catch Covid. In all seriousness, I do appreciate the delicate balance they offered in their efforts to keep us all safe.
Many from the industry cautiously attended Supply Side in October and said, "OMG it's been so long since we have seen each other!!!", and while I didn't say that so much, "IT WAS SOOOOO GOOD TO SEE YOU ALL AGAIN!!!!" in Anaheim.  The mood was decidedly upbeat, and people were doing business.
My first major event in Anaheim was the American Herbal Products Association (AHPA) board of trustees meeting, on which I proudly serve. I attended with the agenda of appealing to my fellow trustees that we, AHPA, need to charter a committee on Psychedelic plants and fungi. With the emergence of legal psychedelics being professionally used to address major mental health issues, and research finding significant benefits in that context, it's crucial that the category be developed with experience and deliberation. Given that AHPA's mission is to promote the responsible and sustainable commerce of herbal products to ensure that consumers have informed access to a wide variety of safe herbal goods, it's entirely appropriate that AHPA's expertise be utilized to help that sector grow responsibly. I pitched the idea, and it was voted in with no opposition. Big things ahead!
As if that day was not good enough, I concluded it with an epic and memorable dinner with some of my closest industry friends which made me re-realize how many good people drive this industry and how I really never want to leave. Not that that is a discussion, I just feel grateful to work in such a wonderful industry alongside so many really great people.
In true form, What's Up with Supps threw another extraordinary after party. As a sponsor we were offered a spot on the DJ's video wall and per usual, my animation guy crushed it! The energy was palpable. People really needed this event.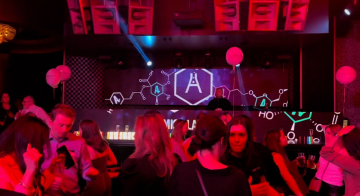 We debuted our stunning new booth at the show as we launched new services! In case you missed the news in the hectic run up to Expo, we now offer purity testing, specifically heavy metals, solvent residue, and pesticides, in addition to our legendary identity and potency testing services. Consumer friendly C of A's are also available for the growing number of companies sharing that info to support their quality. Call your rep if you want to add those services.
All in all, this year's successful Expo West was inspiring and reminded us how much we love being in this industry.